September 15, 2008
Last Stop Tulsa,OK BOK Center..
Here are some of the silly antics that went down at the Finale Show.. Michael has grown a moustache..looking good 🙂 His version of "It's All Wrong But It's All Right" Um WOW! This "Little Blues Number Will Never Be The Same".. Michael sings his heart out, on his knees.. Look out at the end for Michael's Admirer, David Cook presents him with a rose.. (Aw) lol sprays Michael with Silly String.. Hilarious!
Credit to Andy's Skiblet.. Thank You!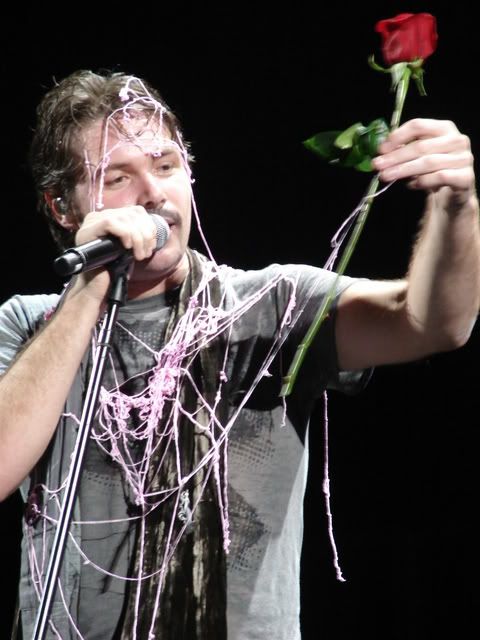 Credit goes to SummerofMavid for this video.. Thank You!
It's All Wrong But It's All Right!

Michael "Snaps It Out" With Brooke White!
Gotta Love Michael's Crazy Get Up lol.. Headband, Canary Yellow Shirt, Rolled Up Shorts.. Too Funny.. Richard Simmons has got nothing on you! Go Michael Go! Gotta love his sense of humor!
Credit for this video goes to emphatictulsa, Thank You!

Final Mavid Dance!!
Credit goes to Suze109 for this video..
So here it is the final Mavid dance of the tour.. Michael/David pretend to take down their pants, hold up some big ole tighty whiteys..lol Michael has got the moves, even the girls are getting into it.. Everyone is feeling the excitement and love, lights go out this is it, the end of the tour.. hugs all around 🙂

On behalf of MJO i would like to Thank Michael Johns for giving us the Summer of our lives!.. Thank You For Everything.. You Rock Baby! Ok MJ Fans this is just the beginning, don't go anywhere because the party is just getting started.. Watch the appearance schedule as Michael is going to be super busy.. Thanks for all your support of MJ/MJO! (This blog was written by Helen/absabella 🙂 Hope you enjoyed it..